Podcasts
Welcome to the NAC's podcast directory. To access an NAC podcast, choose one from the list below, copy the URL and paste it into your podcast software application, or simply drag the orange RSS logo directly to your podcast software, like iTunes. For further information please see the About Podcasts section below.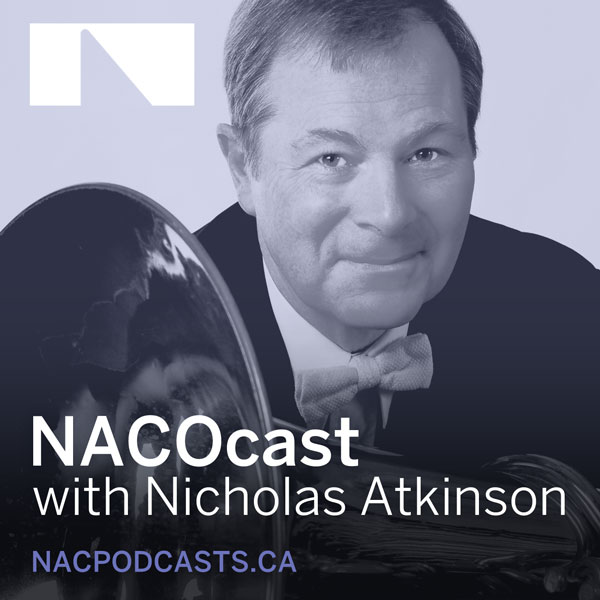 Join host Nicholas Atkinson (principal tuba, NAC Orchestra) as he explores the world of orchestral music and its great composers. In this series of audio programmes you can look forward to hearing insightful commentary about upcoming NAC Orchestra programmes as well as musical excerpts and interviews with NACO musicians and guest artists.

Episode Guide
Subscribe
Subscribe in iTunes
Join the National Arts Centre Orchestra's Marjolaine Fournier and one of Canada's foremost music journalists, Jean-Jacques van Vlasselaer, as they explore the symphonic form from Haydn to Shostakovich.

Episode Guide
Subscribe
Subscribe in iTunes

Salon Saturdays from the National Arts Centre of Canada, hosted by NAC English Theatre Artistic Director, Jillian Keily.

Episode Guide
Subscribe
Subscribe in iTunes
The NAC Dance podcast features fascinating conversations between NAC Dance Producer Cathy Levy and some of the world's most exciting dance artists, all of whom will be appearing, or have appeared, at the National Arts Centre.

Episode Guide
Subscribe
Subscribe in iTunes
How did the National Art Centre Orchestra become the world class organization it is today? In this podcast series, veteran broadcaster and writer Eric Friesen chronicles the unfolding drama ofthe NAC Orchestra from its earliest days in 1969 to the present time. With his charming personality and a host of probing questions, he interviews conductors, orchestral musicians, guest artists and administrators about the Orchestra's beginnings, the challenges it faced, the tours it made all over Canada and to many foreign lands, and the kind of individuals it took to mold the Orchestra into what it is today.

Episode Guide
Subscribe
Subscribe in iTunes
About podcasts
A podcast is a downloadable audio programme in MP3 format or enhanced podcast format (AAC). These audio files can be downloaded and listened to directly by clicking on a link in a web page, or automatically downloaded by subscribing to the program's "RSS" feed using a podcast client. Once they are downloaded, the audio programs can be listened to on a computer or moved to a portable MP3 player, like an iPod.
Subscribing to a podcast feed
Subscribing to a podcast allows you to download each new audio programmes as it becomes available and then listen to it at your convenience, either at your computer or on your portable MP3 player. Subscribe to the NAC podcast feeds and never miss an episode.
What you'll need to subscribe
Learn more about podcasting at Wikipedia.
Learn more about RSS at Wikipedia.
Other podcasts we like
Podcast directories